Endowment Misselling
Many endowment insurance policies intended to be used to pay off mortgages which were sold before the beginning of 2000 were mis-sold. Individuals who have lost out financially may be able to recover their losses by making miss sold endowment claims against the seller if they are able to prove that they have suffered financially as a direct result.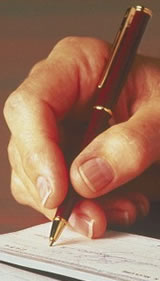 A mis-sold mortgage is legally defined as one that was not sold in accordance with the rules set out by the regulator which in the UK is the Financial Services Authority (FSA) in the Republic of Ireland is the Central Bank & Financial Services Authority of Ireland (CB&FSAI). These rules are intended to protect consumers of financial products and services from being misled or inadequately advised. The rules regulating the insurance industry are complex and we can help by assessing whether the selling went against these regulations.
The root of this problem lies in the fact that these insurance policies depend on the investment of monthly premiums by the life companies creating a sufficiently large fund to pay off the mortgage at the end of the term, however because of the underperforming Stock Market the majority of policies have failed to achieve this and as a result many homeowners have been left with little financial stability.
The holders of most current policies will be eligible to make a claim and even if you have changed to a repayment mortgage within the last three years, or if you have sold or surrendered a policy you may still be able to make an endowment compensation claim.
The FSA and CB&FSAI have judged that misselling is caused by a confusing or inadequate level of communication by the company who sold the policy to the client. Therefore they have put the responsibility for endowment compensation on the point-of-sale company. Once the misselling has been proved this company must reimburse the victim to cover the losses they suffered which should enable a policy holder to transfer to an equivalent mortgage repayment programme without suffering financially.
Experts believe that the majority of these policies sold in the 80s and 90s were mis-sold and that in total there are over 6 million prospective claims throughout the country. If you have received a 'Red' letter warning you of a definite shortfall risk within the last three years it is highly probable that you have been mis-sold an insurance policy and you should contact us as soon as possible. There are time limits and delay can ensure that the opportunity to claim is lost forever.
If you were not properly informed that your policy might be unable to pay off your mortgage at the time of sale, then you are justified in making miss sold endowment claims. There are other potential grounds upon which compensation can be based and if you are in any doubt about your right to claim we will give you free expert advice without obligation.
How do you know if you have been mis-sold an endowment mortgage?
A claim for being mis-sold a mortgage endowment policy depends on the way that a Life Assurance Company, or their agent, conducted the sale of the policy. If the sale complied with the rules of the Regulator, then the policy in question has not been mis-sold and there are no grounds for a claim. If the rules were breached , however, then a claim for mis-selling can be made. Examples of mis-selling are shown below.
Typical examples of endowment policy mis-selling
There are a number of ways in which endowment mortgage policies were mis-sold. These include:
The endowment did not match the policyholder's attitude to risk and this was not taken into account at the time of sale when advice was provided regarding the most suitable mortgage.
An endowment policy was recommended without any choice or explanation of an equivalent repayment product
A promise of guarantees, that did not exist, was made, or indicated by the sales person
Conditions were attached to a mortgage stating that it would only be granted if an endowment policy were arranged
The risk of a possible shortfall in reaching the target mortgage, or how this could be dealt with, was not explained
Having read the above points, you may well now be wondering whether you were mis-sold an endowment policy and may wish to evaluate your grounds for a mis-sold endowment claim.
If you wish to have your case reviewed we will be pleased to do this free of charge and without obligation.